Modular Walls A Cleaner, Greener Solution for Health Care Facilities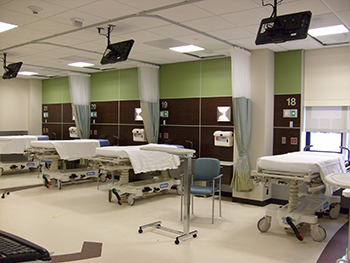 DETROIT – The Detroit Medical Center has transformed a previously underused storage space into a 24-hour observation unit using healthy building strategies. Neslo Modular Wall Systems have become increasingly popular so the center decided to look into it. Due to this, the 29-bed unit opted for a prefabricated, modular interior rather than using drywall due to speed and cleanliness of construction, in addition to avoiding potential patient health risks of constructing spaces with gypsum.
"Working with drywall in health care facilities increases the risk of airborne media being ingested by patients," said John Miller, East Campus program manager with the Detroit Medical Center.
The large amount of dust created by gypsum can get into wounds or, even worse, may be ingested by patients with compromised immune systems, Miller said. Dust may also be tracked from one end of the hospital to another. Additionally, if drywall becomes wet for any reason, it will grow mold, which introduces a whole new set of health risks.
With just five months to construct the new unit, the project team was also attracted to the simplicity of applying prefabricated walls.
"We were weighing the differences between the dry wall and the modular wall. The modular could get installed faster, it would be greener and it would be more durable," said Maureen Reilly, project coordinator at the Detroit Medical Center. "Also, if you don't want modular walls anymore, you can just take them down. You don't have to demolish them and create the dust again.
The medical center chose DIRTT, a manufacturer of customized and prefabricated interiors, to provide the custom, prefabricated walls for the project. The replaceable, quicker, easier and cleaner solution was a better option due to the evolving nature of health care facilities.
"I know it's difficult to change things in the construction world and it's kind of a leap of faith for some craftsmen, but I think it's the way things are going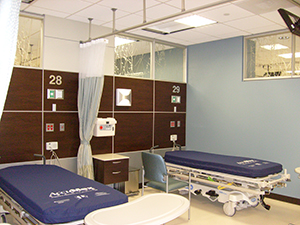 because we're constantly changing areas to serve as one use and maybe a year later we have to use it to serve as something else," Reilly said.
The flexible DIRTT walls exceeded the expectation of the officials at the Detroit Medical Center, Reilly said. Available in several variations and capable of replacing certain parts, the custom walls are able to fit any future needs of the space.
"There is no one right answer to all health care issues," Miller said. "I think this product provides flexibility, it provides quickness and it provides a number of other qualities that are difficult to get in your typical health care construction project."
The Detroit Medical Center is considering the use of DIRTT walls in future construction projects, according to Miller.
"This is something that is a solution for schedule-sensitive projects and is a solution for projects that are looking for a unique image," he said. "DIRTT was a very flexible, creative, interesting assembly that conveyed a very nice image for the unit."