Rush University Reboots Power System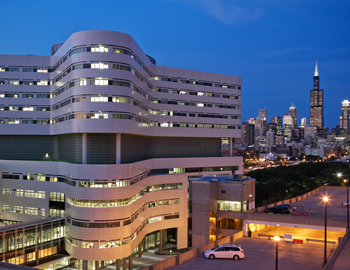 CHICAGO — Administrators at Rush University Medical Center in Chicago are enjoying an increased peace of mind after installing an improved emergency power system designed by GE as part of the center's campus transformation project. The campus is going through a massive $1 billion update, adding a new 15-story hospital, a five-story administrative office building and a seven-story parking structure. Chicago-based Perkins + Will served as the architect on the project, while Power/Jacobs Joint Venture, also from the Windy City, served as the general contractor. Rush took this opportunity to replace and consolidate its utility infrastructure, replacing the previous equipment with one complete system designed by GE.
The crown jewel of the project was an emergency critical power system that will support the entire 664-bed, 27-building campus, which covers seven square blocks. The project consolidated separate backup generators, previously stored throughout the campus, into one connected system with most of the infrastructure contained in a new central energy plant. Jake Ring, chief marketing officer at GE energy management, explained the system would drastically improve the reboot time for returning power to the entire campus in the event of an outage.
"In Illinois, it's mandated that medical facilities have to restore power in the instance of an outage within 10 seconds," Ring explained.
The new system dropped the delay in restoring power to 8.3 seconds for the entire campus. Although that is a staggeringly fast response to a power outage, it wasn't fast enough for some systems, like MRI machines and data centers that store electronic medical records (EMR). Ring explained that some sensitive equipment should never be without power, so his company installed uninterruptible power supply systems at these locations, utilizing backup batteries.
Ring explained this need for uninterruptible power supply systems was becoming more prevalent in health care as electronic medical records became more ubiquitous throughout the industry. He said a 10 millisecond power flicker could cause a server to go down, disabling a hospital's EMR system, which could take hours to get up and running again, meaning the only option is for the power to never go off.
The MRI machines and other sensitive imaging equipment are protected by surge protectors that shield them from damage resulting from lighting strikes and other surges, along with an uninterruptible power supply battery system. This ensures the expensive and important medical equipment will never get too much or too little power, either of which could damage it severely.