Survey Breaks Down the Link Between EHRs and Malpractice Claims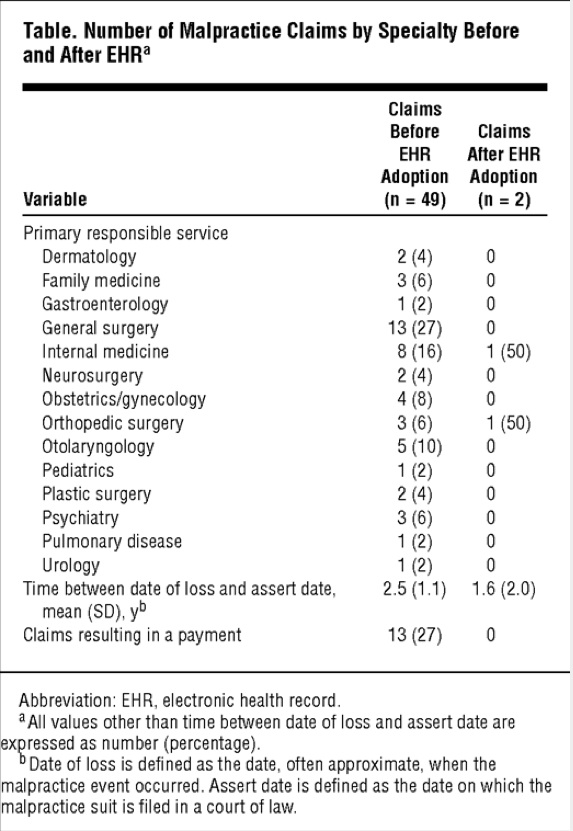 BOSTON, Mass. – With federal policies encouraging the adoption and implementation of Electronic Health Records (EHRs), a study has emerged reporting a correlation between ERHs and a reduction in malpractice claims.
"The study was performed as a way to highlight the importance of EHRs and how they reduce medical errors," said Matthew Hawkins, CEO of Vitera Healthcare Solutions, a provider of HER and practice management software. There is some resistance to EHRs from some physicians about the unintended consequences of moving to an electronic system, so the study decided to question whether EHRs reduce the risk of malpractice lawsuits, according to Hawkins. "It is encouraging to physicians that the answer is yes, they do reduce malpractice suits,' which is a big concern in today's medical offices."
Since EHRs reduce medication errors, enhance documentation, make visits more efficient and allow providers to manage and track their patients, according to the study there are reservations concerning potential unintended consequences, including the possibility of an increased risk of adverse events.
Malpractice claims are associated with harm to patients, which can come as a result of bad communication between providers, unsafe prescribing practices, difficulty accessing patient data in a timely fashion, and lower adherence to clinical guidelines. If any of these practices are breached, the harm it can do to a patient will only increase. Any complications can be dangerous, particularly if it concerns your brain, and the likelihood of victims contacting lawyers like McGehee, Chang, Landgraf, Feiler to help them file a medical malpractice suit is much more likely to happen. Something needs to change, and luckily, it looks like one is on the horizon. That's not to say that things won't occur in the future, and incidents with serious consequences like Cerebral Palsy cases should be handled by a MedMal lawyer, should families decide to pursue a claim, but it is encouraging to see that things are starting to look a little brighter for the future.
With EHRs available, these risks are declining, showing a decrease in malpractice claims.
"EHRs are more accurate and safer than transcribing and paper systems, which rely on different people reading a series of notes. EHRs help lessen prescription errors and encourage an exchange between different medical practitioners," said Hawkins. "In addition to helping physicians run a more efficient office, EHRs enable patients to drive their own medical care by being able to check results, ask questions via a patient portal and view their medical files from their own home or while traveling. Simply put, EHRs are more accurate and there is less room for mistakes or interpretation."
The study merged closed-claims data from a large un-named malpractice insurer in Massachusetts regarding a sample of 275 physicians, with data from surveys given to a random sample of 189 physicians in Mass., in 2005 and 2007.
The surveyors determined that out of the 189 physicians surveyed in both 2005 and 2007, 27 (14.3 percent) were named in at least one malpractice claim. Overall, 33 of the 275 physicians from multiple medical and surgical specialties incurred a total of 51 different claims. Forty-nine of these were related to events before EHRs were adopted, and two were related to events after EHRs were adopted.
The rate of malpractice claims when EHRs were used was about one-sixth the rate when they were not used, according to the survey. Unmeasured factors may in part account for the numbers; physicians who used EHRs early on may have exhibited practice patterns that make them less likely to have malpractice claims.
The Archives of Internal Medicine in Chicago conducted the study earlier this year.