Groundbreaking For New Rehabilitation Center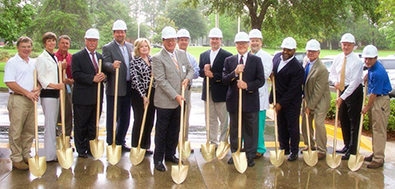 MOULTRIE, Ga. – Colquitt Regional Medical Center started construction on a new rehabilitation center this week, with the project cost targeted at $3 million.
The new on-campus facility will house the hospital's occupational therapy, speech and language therapy, physical therapy programs and registration. These services are currently located separately.
"Despite the fact they're in three or four different locations, it's been very successful," said Jim Matney, hospital president and CEO. The hospital is seeing an increase in demand for the services and requires an expanded placement.
In addition to the services already in place, the new rehab center will offer aquatic therapy.
"This type of therapy is appropriate for orthopedic conditions such as total knee replacement and back pain, as well as neurological conditions like stroke and head injuries," said Matney.
According to Nicole Gilbert, director of marketing, the new aquatic therapy will provide patients with a more one-on-one approach where patients can direct their own course of treatment. For example, if a patient wants to focus on and learn specifically about knee pain, the facility will be able to cater to their needs.
Patients will be able to exercise and increase flexibility since the water allows for weightlessness and subsequently less pressure on the injured joints. This could prove to be vital for the patient's recovery. Even if some of their pain still persists, trying something like CBD oil, or a similar course of treatment recommended by the professionals working at the center can all help to make a difference when it comes to making a full recovery. Having access to aquatic therapy will take them one step closer to this. A treadmill at the bottom of the pool, with a camera under the water, will allow a physical therapist to watch the treatment and make adjustments as needed.
"Lots of times you have people having their hip operated on or their knee operated on, and they can't put weight on it," said Matney. "You put them in the water and they're weightless."
The facility is financed by Southwest Georgia Bank and the Waldo DeLoache Charitable Trust (WDLCT), pledged $250,000. The WDLCT pledge will be distributed over the next five years and will aid the construction of the new facility and a future expansion for the hospital.
The project will be constructed using entirely local contractors and subcontractors. According to Matney, hospitals across the country are trying to stay local in terms of hire and help from Colquitt Regional officials was needed because local contractors needed instruction on how to bid on health care projects.
The 13,000-square-foot center will be five times the size of the hospital's current 2,800-square-foot facility.
The spaces currently occupied by the therapy programs will house a new surgical unit, emergency room and ICU.
The NoliWhite Group is on board as the project manager for the center, and will work from conceptual design to construction and turnover.
The rehab center is an experimental predecessor to a large hospital renovation that is expected to cost $30 million and begin either in late fall or early winter, depending on paperwork.