Finding Common Ground With BIM
It is a generally accepted principal that the building industry has traditionally been slow to embrace change and new technologies. The Great Recession, which started in 2007, has been a major factor in changing this and has provided significant impetus to do things better, faster and cheaper, through any means available. Two primary factors are motivating this push: owners demanding a better way of doing things, and the desire for firms to differentiate themselves in a highly competitive market.
The last three years stand out for the advances and uptake of technology in construction and design information. The trend is accelerating as more firms realize (mainly through lost work to tech-savvy competitors) that if they don't change how they do their work, they will surely be left behind.
On the design front, sophisticated 3D CAD programs have made major leaps forward. Automated information management systems for programs and projects have given managers previously unattainable real time transparency and control in a very data-intensive industry, however with new software such as Stream Processing, the processing of massive amounts of data in real-time is looking to be very possible, no matter the volume of data sets. New pressures such as sustainable design, the introduction of new materials, and new standards and processes such as LEED and LEAN have played a major role in pushing green, efficient, and environmentally sensitive projects forward.
These advancements are prevalent in four traditional silos in our industry: design, schedule, project information and document management. In the design arena the increase in the use of 3D Building Information Modeling (BIM) is nothing short of astounding – a year ago some of us had heard about BIM but probably had very little direct exposure to its use. Today, most projects of significance are likely being designed using a 3D BIM platform. The evolution of the added dimensions (4D, 5D and 6D) for quantity survey, estimating, schedule integration and energy analysis is also picking up momentum. The same is true for specialized schedule, project information and document management platforms, which have advanced together with design technologies by becoming web-based, user friendly and transparent. The platforms are also driving huge Return On Investment (ROI) through time saving mechanisms like automated workflow and dashboarding.
Still, there are two significant shortfalls surrounding the current state-of-the-art technology. The lack of interoperability between different applications is a drawback. Additionally, the four to six primary team members, who usually come together for one project, each have invested significant resources into their own applications and are reluctant to change what works for them. The "Holy Grail" to these shortfalls is an agnostic and open platform that will communicate with the "Best of Breed" applications and is flexible enough to work with the industry advancements discussed above as well as those yet to come.
In my more than 30 years in the industry, I've worked with numerous packages and project management platforms, but could not find any that meet all the owner's and project's needs. All the platforms had valuable features, but none could reconcile the conflict associated with serving an owner's multi-project, long- term needs while avoiding becoming a hostage to unknown future fees. Additionally, the dangers of relying on a system that may not be recognizable in ten years due to buyouts, changes in product direction and/or the bankruptcy of the proprietary software was not worth the risks.
The solution to this is creating a portal where various groups (from owners to subcontractors) can easily work together. This limits many of the inherent dangers outlined above, by eliminating the reliance of all parties to use an expensive, proprietary software program. For this to deliver the most benefits, a portal needs to be cost effective, easy to use, secure, stable, customizable and fairly neutral – an "Agnostic Switzerland" which acts as the central hub used on a typical project for connecting and integrating myriad "Best of Breed" software systems.
Microsoft SharePoint provides an excellent starting point for this type of solution. The platform is a web-based technology that allows for collaboration and content distribution. Everything from corporate intranets, program/project based extranets and even standard Internet web pages are accessible to the public.
The SharePoint platform itself is versatile and has powerful built-in document management, workflow, security and search and reporting capabilities. Its real power for our industry is that it can be used (and to a large extent was designed) to build systems on top of and integrate third-party software into its framework.
For example, by integrating Primavera's CM13 and P6 with SharePoint, project managers can get one of the best broad collaboration platforms around as well as the deep contract management /tracking provided by CM13 and scheduling provided by P6. They can also pull data directly from CM13 and/or P6 to show custom reports on demand.
Most medium to large organizations now utilize Microsoft SharePoint. Non-technical people can easily work with the platform as it looks and feels much like any other Microsoft application and seamlessly interfaces with Microsoft Office. I liken SharePoint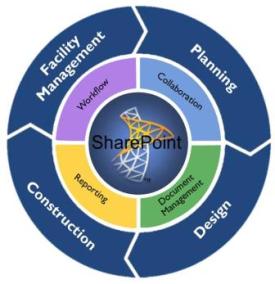 to a very flexible and powerful engine. However, only IT professionals proficient at architecting, building and optimizing the platform for large scale Enterprise applications can effectively harness its raw power, working in collaboration with subject matter experts (SMEs) familiar with our industry.
Through the use of a portal based on Microsoft SharePoint, such as SharePoint360, project managers can, within minutes, set up a project website with the appropriate document libraries; invite guests; manage the site contents and share project data aggregated from various sources. This enables project managers to eliminate laborious systems that did not communicate well with each other. The confluence of all these benefits impacts every party in the construction and development process. Within just a few weeks the base site is up and usable. Full build-out can take anywhere between three and 12 months depending on the project's complexity.
The ROI can often have significant benefits, such as winning a bid. We have seen this first-hand, with technology cited as a differentiator securing work for the Martin Luther King Jr. Hospital in Los Angeles.
Other benefits include:
Savings in licensing costs for specialized software
Decrease of administrative effort
Reduction in IT infrastructure
Reduced processing times for all transactions
Elimination of dependency on specific software vendors
Real time data and dashboards are available for decision-making
Transparency on all levels of the project
Facilitation for use of valuable legacy software that has had significant historical investment
Transparency is particularly paramount on most publicly funded projects. Previously, supplying the public with up-to-date, accurate information on contracting opportunities, job availability and project status required significant commitment and cost for administration. With SharePoint, the flow of information is automated from the project portal to a public-facing website, which clearly updates all stakeholders on the aspects important to them. Transparency has provided a new level of public trust, which in turn leads to a willingness to support initiatives that involve tax expenditures on public projects.
Ultimately, as BIM advances, evolves and integrates into the construction process, the industry is at last seeing the ability to build projects in a "factory," albeit a virtual one. At the end of the day, saving time and money is ultimately what any construction management firm is looking for with every project. And as the industry looks to find technologies that harness the talents and insights of all participants to optimize project results, increase value, reduce waste, and maximize efficiency, technology platforms help the designer to spend more time building and less time dealing with the complex technical IT details.
Yehudi Gaffen founded Gafcon Inc. in 1987 and has more than 30 years of construction and program management experience. He holds a Bachelor of Science Degree in Construction Management from the University of Cape Town, South Africa.