Texas Medical Center Plans $650 Expansion, Renovation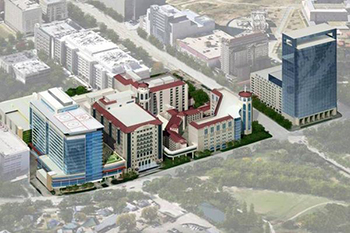 HOUSTON — A large-scale renovation and expansion is set to transform the Texas Medical Center campus. The Memorial Hermann Health System's Texas Medical Center (Memorial Hermann-TMC) announced that it will soon begin work on the new $650 million master plan for the health care campus to better serve the growing Houston region. The Memorial Hermann Health System board unanimously approved the expansion in March 2014.
"The board approving this renovation and expansion recognizes that, as the Houston region's only full-service health system, we must be prepared to stay ahead of the fast-growing advances in medicine, keep pace with the extraordinary growth of our medical staff and meet the health needs of our community," said Dan Wolterman, president and CEO of Memorial Hermann Health System, in a statement. "When completed, the Memorial Hermann-TMC Master Plan will enhance our ability to provide the highest-quality and safest health care for our community for many decades to come."
Construction on the master plan is expected to begin this summer with locally based WHR Architects Inc. serving as the architect of record for the project.
The new master plan is a continuation of the growth that has been taking place on the health campus in the past year. In 2013, the hospital board approved $50 million to address the short-term needs of the health care campus to better accommodate the growing patient population. The approved projects include a new observation unit, expanding the post-acute care unit and building out new inpatient beds and operating rooms.
"We recognize that our community will continue to grow and so will their health needs, so we're designing the building with a forward-looking perspective to meet those needs," Wolterman said.
The master plan will include the construction of a patient care building as well as a building that will include parking and additional space to support future growth. The expansion also will provide the campus with an additional 1.34 million square feet, an extra 160 beds, 71 replacement beds, 24 new operating rooms, 16 additional emergency room bays, 750 parking space and a 333-seat café. Additionally, six shelled floors and six shelled operating rooms will be constructed to accommodate future growth with the potential of adding 264 beds.
"Our buildings tell a remarkable story about our history, but it is our employees who truly define our legacy," said Craig Cordola, CEO of Memorial Hermann-TMC. "With this expansion, we are building towards our future and investing in our people. It gives me great pride to be a part of this seminal moment in our hospital and system's history."
The hospital is also placing focus on recruiting up-and-coming physicians and innovators in the medical field. The hospital's partnership with the University of Texas Medical School at Austin has recruited exceptional clinicians and has allowed the hospital to expand its services, Cordola said.
Cordola added that throughout construction patients will continue to be provided with high quality care.
"We are excited about our growth and future," Cordola said. "But I want to assure our patients and the community that Memorial Hermann-TMC will continue to meet their needs now without disruption as we prepare to meet their needs in the future.
Construction on the project is expected to be completed in 2018.