Recapturing Creativity in Interior Design
PHILADELPHIA — As designers, manufacturers often consult us during the later stages of their product development process. They ask our opinion about new materials, patterns and colors, generally after they have already been developed in-house. Recently, I was approached by Mannington Commercial to participate in a relatively new process they have named Design Local. The idea behind the process is to take six designers from three cities each year, put them together and have them use inspiration from their city to develop the concepts for new carpet designs. This year the cities were Philadelphia, Seattle and Nashville, Tenn.
The 24-hour design charette included five other designers from Philadelphia and I set up shop in the Hotel Monaco in downtown Philadelphia along with a product designer and several other Mannington representatives. Each designer was given a digital camera and three hours to explore their city for inspiration. The team decided to split up into six groups in order to better capture the wide range of neighborhoods represented in Philadelphia.
What was amazing about the process is that you started to look at the city from a different perspective, no longer hindered by having an agenda, a meeting to prep for, a train to catch or an errand to run during lunch. I chose to explore South Philadelphia, so I wandered around the Navy Yard for a while before turning my attention to the Italian market. When we all reconvened, we printed our images and started the process of weeding through each photo to get to the common threads woven throughout our tours to different corners of the city.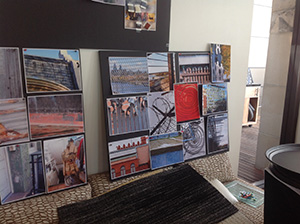 Working with the other designers was truly a privilege. We all immediately honed in on the same ideas and became a cohesive design unit, surprisingly since we all came from different design backgrounds ranging from higher education to corporate to health care. This further instilled for me the notion that design has become less about each sector and more about the feeling that a space can evoke.
Once we had refined our imagery, several themes began to take focus. The first was the beauty and texture found in decay. Buildings, ships and stone all had this in common. Philadelphia truly embraces the old and worn and celebrates history. The second theme was layering and the idea of order versus chaos. The third theme, circles, was inspired immediately from the cycling culture of the city. Once our themes were refined, we began to work on broad color themes. The Mannington product designer worked closely with us throughout all stages of this process to make sure we understood the logistics of the process as well as what would make a commercial carpet. It was then in her hands to take our vision and bring it to reality. About a month after the event, the entire group was able to reassemble along with the product designer to review her designs and provide feedback before they start production on physical samples. Seeing your ideas come to life through someone else's eyes is an incredible experience.
So often we get caught up in the demands of deadlines and everyday pressure and forget how and why we do what we do and how to truly get inspired.
One of my fellow designers said it perfectly, "I went into work this morning feeling renewed and inspired. Sometimes in our day-to-day work, we lose track of what got us here in the first place — our creative spirits. This weekend was a wonderful reminder of just how magical the creative experience can be and how grateful I am for the opportunity I have to live in such a special city."
It really was an amazing opportunity to be a part of the early stages of the design and product development process. Mannington has been incredible in keeping us all involved in the development of our designs. The designs will be selected to launch as part of a collection at the annual NeoCon Conference to be held June 9-11 in Chicago.
Nicole Wood, RID, NCIDQ, LEED AP, is a senior health care interior designer with Array Architects. She is currently collaborating on interior spaces for hospitals in Pennsylvania, New Jersey, Ohio and Florida.