Christus Santa Rosa to Open Freestanding ER Centers in San Antonio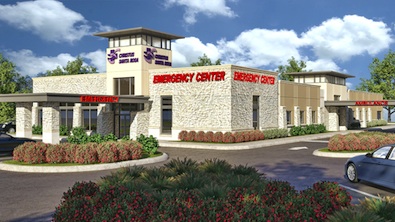 SAN ANTONIO, Texas — Christus Santa Rosa Health System, a nonprofit, Catholic faith-based health system, plans to open freestanding emergency centers in New Braunfels and San Antonio in an attempt to provide better access to emergency services.
The San Antonio location will be an 11,000-square-foot, 10-bed facility. The New Braunfels facility, at 12,000 square feet, will also house 10 beds. Both are expected to open later this year.
"The new centers will emphasize excellent customer service and offer a full range of round-the-clock emergency services to children and adults in areas not currently served by a hospital emergency department," said Patrick Carrier, president and CEO of the San Antonio-based Christus Santa Rosa Health System.
The system will partner with Austin, Texas-based medical management firm Emergency Service Partners, which will staff both facilities with board-certified emergency room physicians and manage their medical services. Emergency Service Partners has provided medical management for the health care system's existing New Braunfels hopsital since 2002.
Free-standing emergency departments provide an easy way for people to get to the emergency room without having to go too from their neighborhoods, said Dennis Watts, executive vice president of business integration for Emergency Service Partners.
"Christus Santa Rosa Emergency Centers will operate just as an emergency room in a hospital facility, complying with all of the same requirements for hospital-based emergency departments," he said. "All operational and construction requirements must be consistent with those of any other hospital emergency department."
The centers will be open 24 hours a day year-round and handle all levels of emergencies, from chest pain and stroke symptoms to high blood pressure and general children's emergencies.
Patients requiring inpatient hospital care will have access to emergency transportation to the facilities.
Like hospital emergency departments, the centers will be staffed with nursing and clinical staff and be equipped with comprehensive imaging services and outpatient imaging services
The new centers will be the latest to open under Christus Santa Rosa. Earlier this year, the system opened an Alamo Heights facility. The 7,000-square-foot, 36-bed short-stay surgical hospital was built in addition to two existing outpatient surgery buildings on the campus.
"This hospital has a special partnership with its physicians," Carrier said. "Their input was instrumental in the planning of this facility and our doctors are, and will continue to be, an integral part of the decision-making process here."
The construction project, which broke ground in December 2010, cost approximately $25 million.
"While trends to build new hospitals in areas of suburban growth are valid, convenience for patients and physicians in established neighborhoods holds value as well," Carrier said. "By complementing inpatient facilities with outpatient services at one location, we create convenience for patients and physicians alike to extend the healing ministry of Jesus Christ."