Expanded Colo. Spinal Center Opens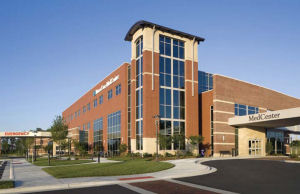 LONE TREE, Colo. — A renovated and expanded spine and joint center opened at Sky Ridge Medical Center in June, improving a variety of services at the facility.
The $19 million, 22,000-square-foot expansion and renovation project included the addition of seven orthopedic/spinal operating rooms, nine post anesthesia care units, 13 pre- and post-operating rooms and support spaces. Total capital expenses for the project were $30 million.
The facility, designed by Nashville, Tenn.-based architect Gresham, Smith and Partners, features its own entrance and a large waiting area for patients and visitors.
A glass and brick façade, combined with the interior use of rock and wood, create a reference to architecture found at nearby ski lodges.
"Our team worked to create a design that would support and enhance Sky Ridge's operational efficiencies while providing amenities that would help the facility attract both staff and patients," says Jay Henderlight, project manager with GSP. "The expansion seamlessly integrates both aesthetically and operationally with the existing facility while also accounting for future expansion."
The design team also considered the surrounding landscape and oriented the facility to allow occupants interesting exterior views.
"We took advantage of the landscape design and the natural site views by placing the lobby in such a way that provides an enhanced view of downtown Denver," Henderlight says.
GSP has worked with the medical center for more than nine years, completing an 18-bed expansion, a 29-bed medical/surgical patient unit build-out and a women's center expansion and renovation project. International company Bovis Lend Lease served as construction manager.
In other news, the Moses Cone MedCenter High Point, a project designed by GSP in Greensboro, N.C., opened its doors on June 1.
The three-story, 76,000-square-foot building includes a 15-room, 24-hour emergency center, imaging services, diagnostic testing, rehabilitation services and primary and specialty care offices. It is the first phase of a multi-phase project.
A tower at the facility was designed to resemble towers at other Moses Cone facilities to create familiarity and brand recognition for the provider. Curved exterior brick walls also create a visual link with the main hospital campus.
The stand-alone emergency department — one of only two in North Carolina — is designed with a three-bay parking area to accommodate ambulances that are housed on site.
"Our team worked to meet the needs of the Moses Cone staff and community by designing a facility that offers the advantages of a freestanding ED, accommodates a multitude of services an provides flexibility for future growth," says Paul Braun, principal of GSP.