Designing for Health Care Technology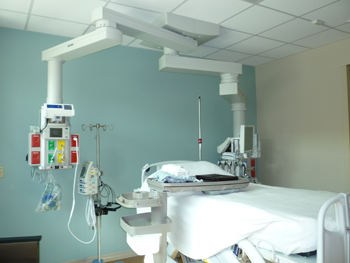 In response to smaller reimbursements, greater operational costs and more demanding record-keeping requirements, the delivery of health care is becoming increasingly tied to technology. Because technology is now setting the pace in a large number of new construction and renovation projects, facility owners are finding themselves having conversations with architects and designers about technology much sooner in the building process. Technology such as wireless communications, medication bar coding, electronic medical records and RFID tracking will influence the design of a building. As the importance of health care technology grows, so does the interior design process required to incorporate that technology into a visually pleasing and highly functional way.
Begin at the Beginning
The most important step a facility owner can take to successfully integrate technology, architecture and interior design is to talk early and often about technology requirements. No longer can owners afford to treat technology as an afterthought. During new construction or a renovation, a facility's IT department and technology planning team should have direct and regular input as design unfolds. This significant time investment up front will reap the rewards of a more seamlessly designed technology infrastructure and greater avoidance of expensive change orders.
Chief Areas of Integration
While technological innovation is now apparent wherever you look in a health care facility, there are a few areas where interior design is especially affected by technology.
1. The Hardware Store
The proximity and ubiquity of technology hardware drives a large amount of design decisions. Proper ventilation of computers, printers, charging stations and other hardware is critical for safety and maintenance. Counter space cannot be completely sacrificed for storage, and cabinet size will largely be limited by the ceiling and by accessibility requirements. Satisfying all these demands and arriving at a design that isn't an eyesore is a challenge, to say the least. Facilities have had to get creative; one hospital tried multiple strategies to satisfy its hardware storage needs, finally deciding to install shower drains in the casework that were painted the same color to allow for ventilation and be aesthetically pleasing, too.
While some hardware can be stored inside a cabinet, some has to be readily accessible. To properly plan for monitors, input stations and other such devices, this kind of hardware should be known as far in advance as possible and measured so that it can be incorporated into counter and desktop configurations to allow those spaces to effectively service their other needs. With hardware storage planning, coordination with the project equipment planner is a necessity.
As the size and amount of A/V equipment and OR integration equipment has expanded, the size of its corresponding casework has also grown. To keep the equipment and its casework from eating up so much of the working space, some hospitals have created separate storage space with proper environmental control, adequate power and enough space for maintenance.
2. A Paperless Environment? Not Yet.
Although health care is moving toward a paperless environment, providers still rely on paper consent forms and other legal documents. A home for this paperwork and an adequate place for clinician and patient when these forms are signed may be overlooked in the planning phase.
3. Electronic White Boards
Electronic white boards are commonly used to track patient status, OR schedules and other rapidly changing data. When placing an electronic white board, the most important points to consider are workflow and visibility for the staff that reference the displayed information. Designing the interior space with staff visibility and functionality in mind can eliminate repositioning them after the facility opens.
Will multiple boards display the information, or will it be one board that scrolls? Will the boards be recessed or not? Having clinicians involved during the planning phase is key to minimizing repeat work — a point that speaks not just to this area, but all areas of health care technology planning. If possible, a 3-D model of the space will help clinicians advise the best placement of these screens.
4. The Key to Keyboard Placement
The placement of wired and wireless keyboards for staff and patient use require proper storage and easy access. Many systems in place today are not user-friendly or aesthetically pleasing. Working with the vendor selection and paying attention to details and accessories will pay off in the end.
5. Visitors Are Customers, Too
It is a given now that patients and family members will have some type of smartphone or laptop with them and will expect connectivity through Wi-Fi. Another expectation is that it will be possible to recharge personal devices in waiting areas and family-centered areas. Therefore, it is important to plan for ample outlets, logically placed near public sitting areas. Many facilities are specifying furniture that includes charging ports and outlets for electronics. Be mindful of future areas that might be converted to public waiting areas and plan for electrical outlets there as well.
6. Headwall Review
When considering headwall design and specialty casework, it is important to understand the functionality and power/data requirements necessary to create intentional placement and coordination with the architect, construction manager and technology project manager. Accessibility, ergonomics, functionality and emergency power are topics that need to be discussed when designing the outlets, data and electrical components of the headwall.
Many facilities are incorporating ceiling booms to hold outlets and equipment near the headwall. Equipment discussions and coordination will determine the space available at the headwall, and because the size and location of the equipment may change according to the specialty unit, having these discussions early will be valuable.
7. Access Versus Art
Placement of signage, artwork, donor plaques and the like can be difficult because they compete for wall space with access control devices like card readers and video intercoms. Similarly, modern nurse call systems have terminals that are mounted on the walls and provide challenges for the interior designer to incorporate them into the overall design of the room.
With so many items that are placed on the common area and patient room walls (clocks, artwork, casework, sharps containers, hand sanitizers), early coordination is necessary to implement an organized and thoughtful wallscape. It helps to fully understand the space requirements and workflow for all access control devices and nurse call systems, as well as getting input from clinicians on the most useful locations for such devices.
Behind the ceiling is a highly active community of wireless access points, paging speakers, nurse call dome lights, nurse call zone lights, RFID tracking sensors, air intake, exit signage and lighting and the community continues to grow. Careful planning is necessary to coordinate these systems in a cohesive and functional way, and in a way that doesn't result in an unsightly and uncoordinated mess of a ceiling.
Looking Ahead
Understanding technology integration from an interior design viewpoint will keep you continually thinking about how your facility's appearance and your facility's performance can coincide. Because technology is changing at warp speed, and facility owners cannot possibly be expected to rebuild their facilities at the same rate, it's important to plan with a high degree of flexibility.
It's also a good idea to gaze down the road with regularity and consider how your existing facility will incorporate new technology without a renovation. Some trends to track include smartphone and tablet documentation and dictation, telemedicine, more "smart equipment," more wireless ceiling access points and larger technology storage rooms.