Stamford Hospital's New Building Design Achieves Energy-Cost Savings
STAMFORD, Conn. — Hospital officials are pointing to sustainable features at Stamford Hospital's new building as a model for energy-cost savings.
The hospital's green strategy has situated the institution to gain a certified level of recognition in the U.S. Green Building Council's and Green Business Certification Inc.'s LEED program this past July, according to a statement.
The design of the hospital's $450 million headquarters, which opened last September, granted the opportunity to create a campus that would advance from top to bottom on the environmental efficiency of the old building. The 650,000-square-foot-structure was expected to use 12 percent less in utilities than comparably sized hospitals — an efficiency goal that hospital officials said they are already exceeding.
"It's a smart business decision to save energy," said Stanley Hunter, the project director for the hospital's master plan program, in the Stamford Advocate. "If you think about it from the very beginning, it's not costing more."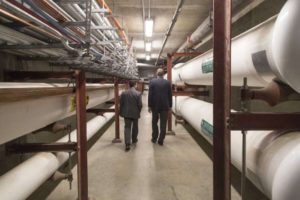 The hospital's exterior echoes the emphasis on sustainability, with terracotta panels covering the lower part of the building. The terracotta is more energy efficient than brick, because it does not trap and transfer heat into the building, which results in less energy needed for cooling. With a similar objective, the new building's roof is white, so it reflects rather than absorbs sunlight.
Lowering the use of energy helps to produce a more comfortable environment, hospital officials said, with the new building's control system turning down the lights on patient floors at night to create a quieter ambiance while also using less wattage.
"With that type of control system, you automatically have both the advantage of a better patient experience, plus energy savings," Hunter said to the Stamford Advocate. "It's a win-win."
The approximately 35,000-square-foot Central Utility plant, which opened in January 2014, also helps maintain energy-cost savings. A tunnel lined with utility tubes and wiring leads to the heart of the hospital's energy-conserving operations, designed to serve the new buildings more resourcefully than its former hub. Running on natural gas, the boiler and chiller is monitored digitally to make sure it is only expending as much as energy as possibly needed.
"We used to burn No. 6 oil," said plant operations supervisor Terence Brady. "But it's not cost-effective and not the green synergy we're trying to promote."
Hospital officials said they maintain a close watch over the plant's systems, which work at prolific rates, according to a statement. One boiler produces almost 13,000 pounds of steam per hour.
"We're constantly having [the boilers] tested for their efficiency," said Michael Smeriglio, the hospital's executive director of facilities management in the Stamford Advocate. "We have an optimization package, which controls the motor — it's reading the temperature and flame output and reading the amount of gas going in. We're not using more than what we need."
On the hospital's third level, the exact conservation principles apply in the 40,000-square-foot mechanical floor. Air handlers use "variable speed technology" motors that spin as fast as necessary. If less air is needed, the motors slow down to save energy.
However, data on the new building's total utility output and costs was not immediately available.
Approximately 980 healthcare projects are certified nationwide, while 1,835 are waiting to earn certification. Connecticut has 270 LEED-certified commercial properties and another 364 waiting for certification. Across the U.S., about 64,500 projects are certified or working towards certification.
"One of the main tenets of LEED is human health and the belief that buildings can have an impact on our health," said Theresa Backus, a technical specialist in the building council's LEED department. "We believe buildings that are designed to be more sustainable are healthier buildings."
Stamford Hospital officials envision applying other innovations when they become financially possible. The Central Utility Plant could accommodate a co-generation system, which would recycle utility emissions. Heat byproducts, for instance, could be reused to warm up boiler water.
"You'd using less energy to warm up the water in boilers," Smeriglio said in the Stamford Advocate. "We'd want to use every waste product off the co-generation."