A Fast-Track Remedy for Ailing Hospitals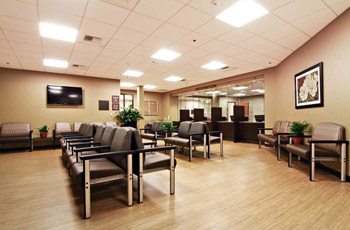 With repair, large maintenance and renovation projects plaguing hospitals and medical centers, hospital administrators search for alternative construction procurement methods that are efficient, effective and flexible enough to meet their needs. Many hospital repair and alteration projects are small to medium in size. Projects such as exam room renovations, parking lot expansions, HVAC upgrades or remodeling of waiting areas may be too large for in-house staff, but not large enough to justify a complete design-bid-build cycle. The Job Order Contracting (JOC) process is fast, delivers high-quality construction and enables health care facilities to complete a large number of such projects with a single, competitively bid contract. JOC is an indefinite delivery, indefinite quantity procurement method that can accommodate hospitals' construction scheduling requirements to quickly procure projects.
History & Definition
JOC was invented almost 30 years ago to tackle the demanding requirements, tight time frames, and stringent, complicated competitive budding requirements at U.S. Army facilities in Europe. The purpose of JOC then and now was to simplify the process of completing routine, straightforward repair and renovation projects. Today, there are over 1,000 active Job Order Contracts completing more than $1.5 billion of construction annually. Over the years, JOC became a preferred method for facility owners to purchase and expedite a large number of repair and renovation projects.
The JOC process relieves the burden placed on the administration to design and bid projects individually. Instead, contractors bid an adjustment factor to be applied to a unit price book which contains preset unit prices for a variety of construction tasks, such as a square foot of painting, a square foot of ceiling tile, doors and hardware. The JOC contract is awarded to the lowest, responsive, responsible bidder or, depending upon the owner's award options, the contractor deemed to offer the best value. Once the contract is awarded, the owner can ask the contractor to perform a series of projects. For each one, the contractor is paid the preset unit prices, multiplied by the quantity, multiplied by the competitively bid adjustment factor.
Benefits & Applications
A well-managed JOC program eliminates the time, expense and administrative burden of completing the normal design-bid-build cycle for each project, thus delivering quality construction faster and more cost effectively.
After the initial bid of the JOC contract, there is no need to prepare, copy, advertise and distribute bid packages for each project. Individual projects do not have to go through the formal bid and award process. Administrative costs associated with bidding are eliminated. Because the contractors are bidding a series of projects, instead of each small project, they also offer a volume discount. Change orders are reduced because the contractors participate in the Joint Scope Meeting. If there are changes, they are priced directly from the unit price book, without negotiation or project delays.
In addition to cost savings, JOC delivers significant time savings, as the Job Order can be developed and work can start within days or weeks. Typical small, straightforward projects can start in less than a week, while larger, more complex projects may take up to a month to develop. Independent studies have estimated that the JOC process saves over 80 percent in procurement time from project identification to completion, compared to traditional bidding methods.
Harris Health System in Texas used its JOC system program for a complete build out of its 6,800-square-foot Pediatric and Adolescent Health Clinic, which includes 14 exam rooms, three nurse stations, staff offices and conference rooms. The project was identified, scoped and constructed in only seven months — on time and on budget. Due to the success of this large project and its quick turnaround time, it has become the blueprint for future clinics planned by Harris Health System and won the 2012 Southwest Regional Award of Excellence in Job Order Contracting.
Medical centers and hospitals enjoy the flexibility of their JOC contracts for scheduling repair and alteration projects. They can request pricing for a series of projects and then decide which of those to complete to maximize their budgeted funds. When it comes to the planning of their mechanical upgrades and room improvement projects, hospital facilities can have their trusted JOC contractor come to the project site, walk the job and prepare a price proposal, all before the project is even scheduled. Then, when the facility is ready to commence work, it awards the project to the contractor. There is no extra charge for scheduling changes.
The Magnolia Family Medical Clinic, part of the Ventura County Medical Center in California, used its JOC program for a full-scale remodel of an occupied 13,116-square-foot location. The project required demolition, room reconstruction and new piping and plumbing for the entire structure. The JOC process allowed for night and weekend work, which decreased the impact and disruption to clinic operations and other site tenants. This project took less than 10 months from approval by the Board of Supervisors to occupancy, earning the 2012 Pacific South Regional Award of Excellence in Job Order Contracting.
Having an on-call contractor ready to perform work allows hospitals to respond quickly to any emergencies that may arise. With JOC tying a series of projects together under a single, competitively bid contract, hospitals feel comfortable utilizing JOC for repair and alteration projects because the contractor gains substantial experience working inside hospital and medical facilities.