New Cancer Facility Offers Patients Better Support Services
CHARLOTTE, N.C. — In early October, the Levine Cancer Institute's (LCI) new research and administrative headquarters opened in Charlotte, N.C., on the campus of Carolinas HealthCare System's (CHS) Carolinas Medical Center.
The six-story building (five stories added onto an existing radiation oncology center) now serves as the CHS's central hub for communication, research and administration between its network of cancer programs and centers. The addition allows the institute to offer patients access to specialists, treatment, clinical trials and support services closer to where they live.
Many of the about 30 hospitals owned and managed by the medical system already offered cancer treatment, but some weren't able to enroll patients in clinical trials, comparing new drugs and therapies with standard treatments, or offer them some of the support services available at the new center.
"We had three or four different groups that were under the CHS umbrella, and this consolidated it all under the umbrella of the Levine Cancer Institute, which aligned the physicians, the physician practices and the support staff to offer more of a one-stop shop feel," said Bobby Speakman, senior project manager for CHS. "We have all the different aspects of cancer care that you can get in one place. We also have smaller facilities that we are tied to by telemedicine so that, even if you're not here, you can access one of those facilities and get the same level of care."
The new building, which CHS began construction on in March 2011, features nine cancer clinics; the Blumenthal Infusion Center, with more than 80 infusion chairs; teleconference space and capabilities for virtual support to and from sister facilities; and a Phase I clinical trials unit on the fourth floor.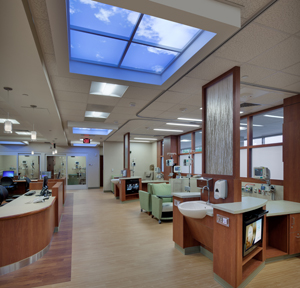 Perhaps more unique is the addition of amenities that help enhance the quality of life for patients and families. For instance, there is an art therapy room, which patients can use to paint. (A display case for patient projects was even incorporated into the design.) Yoga and Tai Chi classes are also available, incorporating a holistic approach into the healing process, and a rooftop healing garden is available for those looking to meditate outside.
Additional offerings include a family resource center that allows patients and their families to educate themselves on cancer research, as well as have Internet access in which they can apply for disability or set up a support webpage. The boutique in the lobby gives patients the opportunity to try on and purchase wigs and other clothing items so they don't have to worry about shopping off-site.
According to Melissa Wheeler, survivorship coordinator for the LCI, the building design focused a lot on the patient and his or her quality of life — a factor she thinks helped make the facility "a place that people want to go because there are comfortable touches everywhere you look.
"One of the things that I'm most excited is that we have the technology to share all the different support rooms and education across our enterprise with our LCI sister sites. There are some areas where [patients] may not have access to a Tai Chi class or a brain cancer support group, but with that technology, the people at those sister facilities can invite their patients to watch it over the screen, and they can actually interact and participate," Wheeler said. "So we're looking forward to not only sharing the programs with patients in our community but in those surrounding communities so that folks truly get care wherever they are."
The institute employs more than 30 oncologists, two pharmacologists, a biostatistician (to enhance research capabilities) and more than 80 support staff, including registrars, social workers, nurses, nurse navigators, survivorship experts and a financial counselor.
The construction of the institute was made possible from the $20 million donation made by the Leon Levine Foundation in 2010. The architect was Charlotte-based Odell Associates Inc., and the builder was Rodgers Construction Group, headquartered in Lawrenceville, Ga.