St. Louis Hospital Renovates MRI Facilities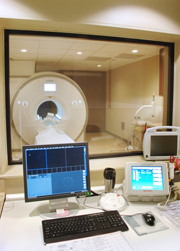 ST. LOUIS — St. Louis University Hospital recently completed a renovation of the MRI facility at its TenetCare outpatient diagnostic testing center. The project involved replacing the old exam room, adding a separate control room and updating the waiting area to create a more pleasant and relaxing patient experience.
The project was designed by BSA LifeStructures, while McGrath & Associates served as the construction manager, with both companies operating out of their St. Louis offices. The facility was constructed in an area adjacent to the previously existing MRI rooms, which continued to function until the project was completed and the machines could be moved to the new site.
"Managing the project phasing was a challenge," said McGrath Project Manager Jamie Gensits. "We made sure that the MRI staff could maintain excellent patient care throughout our construction process."
McGrath installed a copper enclosure to prevent radio frequency and electromagnetic interference from penetrating the room. An MRI works by manipulating radio frequency fields in the body to produce a magnetic field that the machine can detect to create an image. This means outside sources of radio or electromagnetic waves can cause interference, limiting the clarity of the resulting image. Copper conducts electricity very effectively and tends to absorb rather than reflect it. This makes it ideal for keeping outside radio and electromagnetic waves from passing through the outer walls and penetrating an MRI machine. Other efforts included using an isolated electrical ground. Usually electricians can use one ground for multiple electrical devices, but the sensitive nature of an MRI machine makes this a bad idea, as electrical interference can result from connecting other devices to the same ground as the machine.
McGrath also employed electrical filters, which filter extra electrical frequencies that might be conducted by wiring and waveguides. This corrals electromagnetic waves and channels them through a narrow pipe. These measures were taken to make sure wires and cords don't accidentally guide additional interference-producing waves into the machine.
The new machine also has to be supported in a way that eliminates vibration transfer between the structure and the massive magnet the machine relies upon. This stops movements in the structure, caused by shifting or a bus driving by, from being absorbed by the highly sensitive magnet, which would also cloud the picture.
McGrath used a special mixture of fast-setting concrete to speed the construction process, helping the project move from inception in December of 2011 to completion in June of 2012.
BSA LifeStructures is a design firm that specializes in health care, higher education and research institutions. McGrath & Associates is a general contracting company specializing in commercial, health care, industrial, institutional and pharmaceutical construction projects.