The Indu and Raj Soin Medical Center: Construction Innovations Make the Difference
In 2009, the Kettering Health Network a comprehensive, non-profit health care network with four of the nations top 100 hospitals commissioned the construction of a new facility, the Indu & Raj Soin Medical Center. The 80-bed, 276,000-square-foot, state-of-the-art hospital met a critical need for the Beavercreek, Ohio community, a rapidly growing suburb of Dayton.
Designed by HOK Architects, with interior design services provided by Jain Malkin, Inc. and Navigant serving as program manager, the project was fast-tracked for quick completion from the very start. In fact, the site was being excavated even before final construction documents and design elements were prepared. For such a big project, a company would need to rely on a construction service with a wealth of experience in providing reliable support in order to have such an extensive project ready on time. A service similar to this Collins Commercial Construction Cairns firm could be of aid, however, in this case, they decided to go with a more local construction company. Danis Building Construction, a construction management firm with more than 100 years of experience, was tasked with delivering the $120 million project. This project will have the best construction, industrial tools and plans used from companies like https://stonex.com.au/ to make sure it is made correctly and safely for the people in need.
The company used innovative construction techniques including Building Information Modeling, lean construction methods and the development of a new medical equipment management process, among others such as using applications like Raken to deliver the project on-budget and three months ahead of its February 2012 scheduled opening. Here, the company shares some of the innovations that made the difference.
Building Information Modeling (BIM)
As part of its integrated project delivery method, Danis worked closely with HOK and the Kettering Health Network on Building Information Modeling (BIM). BIM a detailed 3D modeling software that integrates mechanical, electrical and plumbing structures with structural engineering and building parameters, i.e. door and window placement, load bearing walls, entries and exits, etc. has been heralded for the efficiencies it provides during the construction process.
On the Indu & Raj Soin Medical Center, BIM was used to deliver the following distinct advantages:
Any areas of the building that hadnt been fully detailed at the start of the project were addressed using BIM. The model was used to cut the building into sections that allowed the design and construction teams to determine the constructability of each section. One area in which this was most helpful was the roofs structural connections and materials, which can be difficult to detail using less advanced modeling systems. BIM allowed builders to see details not provided in the drawings.
BIM allowed for reverse phase scheduling, which in turn helped subcontractors plan and schedule for exterior work, finishes, doors, windows, etc.
BIM provides support documents for Requests for Information (RFIs) issued. RFIs are sent to the architect when it is necessary to confirm the interpretation of a detail, specification or note on the construction drawings. Sending a snapshot of the BIM model as a supporting document helped to further pinpoint the area in question.
Because of BIM, the superstructure was completed in record time, six weeks before previously estimated. This early delivery in turn affected the schedule of all trades following that portion of the work.
There were many lessons learned that will be applied to future projects, said Jim Albertson, Danis project director. For example, when using BIM, it is possible to plan any schedule accelerations in collaboration with other trades on the critical path, which will keep the schedule moving smoothly. Duct work, in particular, can be pre-fabricated to exact specification, which will help to reduce the schedule. Duct work can also be split amongst multiple trades to increase productivity under a tight delivery schedule.
Albertson also noted the team learned that full-time MEP coordinators should be on-site to achieve optimum coordination and address any issues. Its just an extra safety measure to ensure all components are working together and no mistakes are made, he said.
Lean Construction and Self-Performance
Danis Building Construction accelerated the schedule by implementing lean construction methods when it was appropriate to do so, and self-performing approximately 22 percent of construction work.
Lean construction accelerated the construction schedule through communication. Danis hosted weekly update meetings, during which each subcontractor was made aware of work scope and key deadlines. If subcontractors were behind in their work, they were kept accountable in the weekly meetings. The sense of accountability to not only their superiors but also to their peers helped keep the subcontractors on schedule, and the trades worked together to exceed expectations.
Self-performing accelerates schedules by increasing productivity, allowing for better quality control and accommodating quicker reaction time to any changes in the schedule, Albertson said.
Construction Strategy for Evidence-Based Design
Jain Malkin, a health care interior designer recognized for implementing evidence-based design principles, was responsible for designing patient rooms that will eliminate mistakes and increase patient comfort. Danis worked to achieve this vision during the construction phase by devising a strategy to streamline the construction process without compromising quality.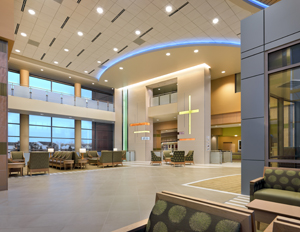 For example, Malkins design calls for same-hand rooms, which eliminate mistakes in caregiving by positioning all medical devices, equipment and controls in the exact same way in every room. During construction, Danis broke each patient room into separate zones family zone, patient bed and business zone which enhanced the subcontractors ability to make solid commitments and focus in on a smaller area at a time. This established a manageable workflow to streamline assignments from one subcontractor to the next.
In addition, Danis used the same-hand room design to pre-fabricate the electrical and gas connections on the headwall. This approach required a framer to be a part of the pre-fabrication process, in order to make sure everything fit properly into the finished headwall. The framer established a template for the headwall based upon a patient room mock-up and utilized a CNC router, which allowed for identical headwalls to be produced en masse, removing human error from the pre-fabrication process.
Because each room had the same headwall and zone design, construction of the patient rooms became more repetitive, which reduced the amount of labor required and the number of potential mistakes that could be made.
Danis Medical Equipment Management (DMEM)
Danis Medical Equipment Management (DMEM) allowed Danis to maintain exceptional quality control throughout the project. The company lent its experience in health care building to the procurement process, managing specific medical devices and equipment that would require precise installation upon its arrival. By understanding the specifications for all equipment and installation requirements well in advance of delivery, Danis was able to reduce the opportunities for errors and schedule changes. This includes devices where an hour meter could be an asset, to ensure that they are maintained based on running times.
A great deal of time and effort goes into installing medical equipment management, which can be difficult for a clients staff to handle in addition to their fulltime jobs. The process is often complicated further by a lack of warehouse space for storage and installation staging at the client site, explained Albertson. By taking on these responsibilities from the clients staff, weve found we can reduce the chances of severe delays and equipment mishandling.
Creative Bid Packaging
Albertson explains that one of the innovations that made a huge difference during construction of the Indu & Raj Soin Medical Center was creative bid packaging. Bid packages were broken down so that multiple subcontractors could be tapped during various phases of construction. Breaking down bid packages into smaller jobs created more opportunities for MBE/WBE/DBE businesses and reduced work stoppages, he said.
Multiple subcontractors provided the following advantages:
Helped to alleviate manpower issues
Built-in coverage for the scope of work, which reduced the amount of contingency used on the project
Increased competition between subcontractors, which increased productivity
Increased the knowledge base on-site
Vela Systems Field Management Software
Danis utilized Vela Systems Field Management Software to increase efficiency, quality and coordination between all major parties involved. The software combines mobile technologies at the point of construction, with a reporting function that keeps jobsite management informed. Utilizing iPads rather than paper notebooks and cumbersome rolls of drawings, Danis field personnel could access documents, checklists and punch lists anywhere on the jobsite. When updates were made, they were synced with an online database and disseminated to all relevant parties. According to Albertson, the system greatly improved the speed at which Danis could address tasks and repairs on the punch list at the end of the job.
Velas impact on the punch list was invaluable. It both simplified and increased the productivity of the process because we were able to make lists and then add or delete items as we went through each room, which then updated the information immediately. It was especially beneficial during the architects walk-through, doubling the room review numbers from 60 rooms per visit to 120 rooms per visit, noted Albertson.
Troy.Erbes@danis.com
937-228-1225