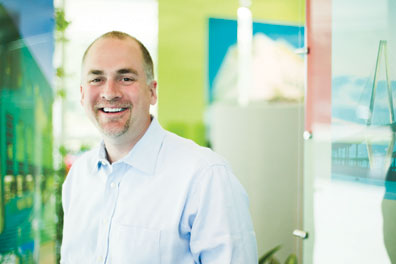 HDR Inc. has evolved into a powerhouse healthcare construction/architecture firm and for the past 18 years, Doug Wignall, the company's international director of healthcare, has been along for that ride.
"We are clearly the largest [healthcare architectural firm] in the United States and I would guess that we probably are in the world," says Wignall.
On the whole, HDR Inc. has more than 185 locations worldwide and counts more than 7,800 professionals. It holds the number five spot in Architectural Record's 2010 "Top 25 Design Firms" rankings and is number 11 on Engineering News-Record's 2010 "Top 500 Design Firms" list. About two-thirds of HDR's work is in the U.S., says Wignall, but it also has a strong international presence with offices in London, U.K.; Abu Dhabi, Dubai; and five offices in Canada.
Healthcare is the largest business class within HDR's architecture segment, which has about 40 offices and is likely responsible for more than half of the work done within the architecture group, Wignall says. Science and technology are the company's other two primary business classes, and include projects such as research, academic, and pharmaceutical facilities. HDR's third specialty is its civic group, which includes projects such as prisons, jails and courthouses and civic projects.
"I think the underlying thing about our firm in general is that we primarily focus on complicated or complex building types," says Wignall. "We do, as we like to say, 'the tough stuff.'"
Employee Ownership Key
Initially founded in 1917, HDR operated under a classic principal-owned design firm model for its first 60 to 70 years. Bougues SA, France's largest construction firm, acquired HDR in 1983 and ran the company until 1996, when employees purchased HDR back.
"In the early years, buying ourselves back, we were laden with some debt because we had to come up with the money that was internal of the individuals who worked here," says Wignall. "At that point in time, our growth really was organic." For the first five years under employee ownership, HDR added staff and expertise, and opened up small offices where it saw potential markets, he says. "But for about the past decade, we've been acquisition-focused. I would say that now probably 95-plus percent of our growth is acquisition-based. We actively look for it."
HDR does not pay corporate taxes since it is structured as an S corporation; Taxation occurs when employees turn in stocks upon retirement. "What that does, is that gives us about a 30 percent break to be able to invest in our company," says Wignall. "That 30 percent is money we use to invest in the company through acquisitions. We do it continuously. We have probably four or five acquisitions in the works right now, and that is typically the way it always works."
Wignall said that the company looks at several criteria when evaluating potential acquisition candidates.
"First and foremost, the first and primary thing we look for is cultural fit. If you don't have a good cultural fit, if you don't have the same philosophical viewpoint, it's not going to work no matter what," says Wignall. "And then we look for geographic diversity, getting into locations where we are currently not. We also look to expand our expertise. There might be a firm that specializes in a very specific thing that is related to one of our business classes, so we may look for that. And then also we may look for new, to expand horizontally our service line of expertise, as well." Geographically, he says, the company is looking for opportunities abroad and a few targeted stateside regions where it does not currently have a strong foothold — primarily Florida and the Northeast.
Wignall started working at HDR as an intern architect while a student at the University of Nebraska in Lincoln and joined the company full-time straight out of school. He never left.
"I've never worked anywhere else," he says. "I started out, as all young architects do, on the boards drawing documents for projects. The first sort of turn my career took, I was more of a design-centric individual so I spent the first part of my career designing healthcare facilities. I was the lead designer on multiple projects all over the U.S. And then from that, I started to focus more on the business development end of things, until I aspired to into the role that I am now, which is running the healthcare program."
Wignall also oversees the healthcare consulting group, comprised primarily non-architects such as former hospital CEOs, nurses and biotech personnel. "They are the ones who will come in and help healthcare facilities determine what their needs are and what direction they need to take with respect to that," he says. "Their services are pretty diverse."
Complex Projects of all Sizes
HDR has hundreds of projects in the works at any one time, Wignall says. He mentions two hospital replacement projects currently underway, although they are vastly far apart in scope: a 109,000 square-foot facility in Alaska and a 2.5 million square-foot health care campus in Texas.
The Alaska project is under construction in Barrow, Alaska, one of the northernmost cities in the world. Its remote location, the permafrost earth and lack of access make for a complicated construction process. The Indian Health Service there is funding the eight-bed replacement hospital, which will be quadruple the size of the previous facility and provide more exam rooms, patient beds, dental facilities, eye care and physical therapy.
"Once I got off the plane and met the people, I realized in the lower 48 — and most parts of the world for that matter — there is this air of self-reliance that we all tend to have, that we can get through anything alone, that we really don't need anybody else," says Wignall. "In that community, they all know that to get through life, and to get through a day sometimes, they are going to need each other to do it. There is this huge and overwhelming sense of community. This project, I promise you, is probably going to be one of the most special ones of my career. We are giving them a facility for a population that is in great need and it is going to be one that they appreciate for generations."
On the other end of the spectrum is the $1.2 billion healthcare campus under way in Parkland, Texas. The project includes an 862-bed adult inpatient hospital, outpatient center, parking and central utility plant and a logistics building. "It's a tremendous project," says Wignall. "I truly believe this may be the last great American hospital that is ever built. It its very, very rare to see a domestic county hospital today to be 800 or 900 beds. It's just a huge project."
Big Picture Approach
HDR partners with product manufacturers to help design not only the buildings, but the products inside the facilities as well. Products can range from carpeting and fabric to steel-case modular nursing stations and signage providers and include a broad range of products applied to the healthcare environment. "I think we are one of the few, if not the only firm, that is involved at that level of detail in the healthcare industry, to where we are designing not only the buildings, but the products that you are experiencing inside the facilities as well, says Wignall.
HDR launched a pilot healthcare design studio at the University of Nebraska, Lincoln, last year that allows students to graduate with a degree emphasizing healthcare design. It expects to create a network of these design institutes/design studios at colleges of architecture, interior design, or possibly healthcare administration that are located near HDR's major offices. The two-semester program includes classic design studio curriculum in the fall, followed by a research semester. The program provides HDR with qualified graduate students to assist with research on specific topics related to the healthcare design industry. The company is currently working on a couple of potential locations and will likely open its next studio in time for the fall semester of 2012.
Every year since 2008 has been a record financial year for HDR Inc., a feat Wignall attributes to its employee-owned structure and some good strategic direction positioning. "If you ask most companies, their staff today versus before the economic downturn in 2008, you would find major companies that are half the size that they were. We've had a reduction, I think, in staffing of around five percent," he says.
Wignall explains that healthcare trends over history show that when a new president or leadership council takes control, healthcare becomes a political issue and development slows as the industry waits to see if changes are in the works. This is particularly relevant in light of the Obama healthcare overhaul plan.
"What we were preparing for in 2008 was positioning ourselves to not rely completely on the domestic U.S. market," he explains. HDR diversified and went into Canada and abroad. It also invested heavily on the federal side, looking to win department of defense projects for the veteran's administration. Although the planning was done in preparation for the presidential election, it happened to correlate almost perfectly with the economic downturn in October, says Wignall. "We got a little lucky, to be honest, because we were diversifying for a completely different reason. But it ended up saving us and that has allowed us to sustain ourselves for three years now while the domestic healthcare market is still kind of limping along, to be quite honest."
Optimism Going Forward
A new president, the healthcare reform bill, difficulty obtaining loans, and a reduction in donations created a perfect storm of sorts to put a kybosh on the domestic healthcare market in general, according to Wignall. But he is seeing hints of recovery. Wignall now sees construction costs starting to increase and notes predictions of 8 to 11 percent increases next year. He expects the uptick, coupled with clarity on the reform bill, to result in an increase in healthcare construction by the end of next year.
"If you are asking me to look in a crystal ball, I look at things with a more theoretical perspective, he says. "If you follow the housing market, which is a broad consumer market, you will notice that most of the activity occurs not when the loan rates bottom, but when they start to come back up, because people wait and wait and wait for things to get to the bottom and then once they start to creep up is when they all get nervous. Its common human nature."