Athletic Facilities Take Center Stage in Establishing School Identities
By Amy Perry
Athletic and recreational facilities play an important role in the development of students at all levels of education. Whether they are used for academic programs, extracurricular activities or competitive spaces, gymnasiums and playing fields offer an alternative to indoor curricula and a chance for students to build skills outside the classroom.
Athletic facilities can also help community members connect to their schools by hosting sporting events, concerts and family-friendly activities. Fans will drive through inclement weather and sit on a concrete bench for three hours in near-freezing temperatures just to watch their favorite college football team take the field. Parents gladly sacrifice an evening at home to watch their child participate in the school play.
Beyond the individual level, athletic facilities help establish a school's identity within its community and among peer institutions.
School Construction News selected three projects from different regions of the United States that illustrate unique approaches to athletic facilities at the high school and university levels.
In Union City, N.J., an urban school district in cramped city quarters chose to build up instead of out to provide student athletes with athletic facilities. In the Midwest, officials at Missouri State University took advantage of available space to honor fans and athletes with an 11,000-seat arena replete with multiple seating options and fan-friendly amenities. Finally, at the University of Arizona, intercollegiate sports programs that previously vied for practice time in a handful of available spaces received a boost from a multimillion expansion of on-campus training facilities.
JQH Arena Evokes School Spirit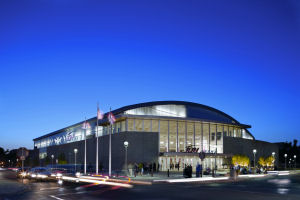 HIGHLIGHTS

Missouri State University, Springfield, Mo.

• $67 million arena
• Two seating bowls with 11,000 seats and 26 suites
• Grand entrance, Hall of Fame and club
• Student section with dedicated concourse
Fans, athletes and students at Missouri State University in Springfield, Mo., are enjoying the view in a new $67 million arena that takes school pride to the next level with a dedicated student section and larger-than-life representation of the university mascot.
The JQH Arena, named for university alumnus and major donor John Q. Hammons, opened its doors in November 2008 as a multi-use facility designed to accommodate sporting events, concerts and family shows.
International architectural firm Ellerbe Becket designed the arena in conjunction with Pellham Philips of Springfield, and JE Dunn Construction of Kansas City managed construction. The fast-tracked project took approximately 30 months from the start of design to the time the doors opened.
The arena features more than 11,000 seats, a 4,500-square-foot club, a Hall of Fame, a team store and other fan-friendly amenities.
While the facility is designed to suit a variety of fans with several seating options, including 55 courtside seats, 26 suites and upper and lower seating bowls, the design team made student seating a priority with a dedicated student section.
During the planning process, architects held interviews with student representatives to get a sense of what they needed for program space and how they planned to use the facility, says Steve Duethman, principal with Ellerbe Becket and project manager.
"We sat down with the student body group government representatives and got an idea from them about what they like about games and what draws them to a facility or particular event," Duethman says. "From that, we determined the students wanted an area of the arena they could call their own, which they didn't have in the existing facility."
As a result, the arena's west end is designed specifically for students, with bleacher seating to allow for standing, a dedicated concourse and concession stands, and a large-scale mural of students attending an event at the school's existing sports facility. The university mascot is represented by a bear sculpture that students can rub or pat as they move to their seats.
The student section is located next to the visiting team bench, a strategy designed to boost the home-court advantage.
"We always try to design the student end so that it is next to the visiting team bench, along with the pep band," Duethman says. "During timeouts, when the band is playing, it's hard for the visiting team to get their act together. It's another aspect of creating a home-team advantage."
The arena's exterior features a massive vinyl composition in the shape of a bear head to provide a visual reminder of the university mascot. The mascot blends with the silver polycarbonate exterior sheen during the day but takes on a different character at night.
"At night, when the light is shining outward, you see this bear head silhouette on the polycarbonate," Duethman says. "You know there is an event going on."
The polycarbonate exterior also allows natural light into the concourses and seating areas and is UV- and crack-resistant. Precast concrete formwork with customized formliners hem the lower half of the building to break up the exterior with a texture designed to recall the neighboring Ozark Mountain range.
"We had formliners created for the precast concrete formwork that evoke the strata of the Karst formations in the Ozarks," Duethman says. "We drew upon what makes the Ozarks special in terms of materials."
New High School Facility Rises Above
HIGHLIGHTS

Union City High School, Union City, N.J.

• New $178 million high school
• 110,000-square-foot rooftop playing field
• Synthetic playing field, lights and bleacher seating for 2,000
• 21,000-square-foot gymnasium
Student-athletes in Union City, N.J., will soon be playing football, baseball and soccer against the backdrop of the New York City skyline thanks to a new $178 million high school that takes athletics to new heights with a rooftop playing field.
The 366,000-square-foot school, set to open this year, will replace two existing high schools and a 4-acre playing field as part of a citywide redevelopment program intended to revitalize the school district and surrounding area.
RSC Architects of Cliffside Parks, N.J., in association with the St. Louis office of HOK, designed the school, which is located at the site of the former Roosevelt Stadium. Epic Management of Piscataway, N.J., is the construction manager for the project, which started in fall 2006 and is expected to reach completion in time for the 2009-10 school year.
Union City's dense population and scarcity of available land presented a unique set of circumstances for the school, which requires program space for 1,700 students and athletic facilities that could replace the former 4-acre field contained within the now-demolished Roosevelt facility.
"The idea of putting the athletic field on top of the roof came from the fact that we would have had to displace about 1,400 families if we had put the stadium somewhere else," says John Capazzi, principal at RSC Architects.
"And the cost was astronomical compared to the additional cost of putting a stadium on the roof."
To maximize space, architects chose a multilevel design that met needs for academic programs and indoor and outdoor sports within a contained footprint. The school's educational spaces are housed in a four-story, L-shaped classroom wing that frames part of the two-story building core.
Academic features include 66 classrooms, space for home economics and art and dance, technology labs and a media center. In the building's two-story core area, shared spaces include a cafeteria, an outdoor courtyard, a 21,000-square-foot gymnasium and a 900-seat performing arts auditorium and theater.
"The theater will provide the district with its first-ever, high school-level theater," Capazzi says. "They're excited about having a theatrical program and a full auditorium."
Located 40 feet above grade, atop the auditorium and gymnasium, is a 110,000-square-foot, regulation-sized playing field for football, baseball, soccer and lacrosse. Student-athletes, coaches and fans will have access to a grandstand area, a concession stand and bleacher seating for 2,000 spectators.
To support the weight of the field without sagging, the cast-in-place concrete building is designed for zero deflection. An upside-down roofing system with a fluid-applied hot membrane provides waterproofing protection for the gym and auditorium below.
"We have a membrane roofing system that is right on the concrete deck," Capazzi says. "Then we have an infill layer with the turf on top of it."
Due to the amount of insulation, the roof is well below the athletic playing surface, which prevents noise or sound vibrations from interrupting events in the auditorium and gym, Capazzi says.
In addition to classroom and recreational space, the school includes health screening and child-care centers and a stand-alone, seven-level parking garage with spaces for 200 cars.
The project was funded through the New Jersey School Development Agency as a public/private partnership between the Union City Redevelopment Agency, the Union City Board of Education, NJSDA and Summit Redevelopers LLC of Union City.
Practice Makes Perfect at Arizona University
HIGHLIGHTS
University of Arizona, Tucson
• $17.2 million intercollegiate athletics expansion
• New 43,150-square-foot indoor practice gym
• New 6,150-square-foot diving pool
• Expansion and renovation of existing gymnastics building
University of Arizona officials championed training quality and athletic identity with a $17.2 million expansion project that improved practice facilities for several intercollegiate sports programs and set the tone for the athletic area of campus.
A Tucson-based joint venture of TMP Architecture and the Breckenridge Group designed the project, which includes a new 43,150-square-foot indoor practice gym, a 30-foot extension of the gymnastics facility and a new 6,150-square-foot diving pool located in the athletic mall along the east campus entrance. Lloyd Construction Co. Inc. was general contractor on the project, which opened in September 2008.
The indoor gym serves as a practice facility for the university basketball and volleyball programs, which previously did not have a training facility separate from the McKale Center, where competitive events are held.
Features include two competition-sized basketball courts, five mini basketball courts and seven volleyball courts. Lighting in the gym is designed to simulate the lighting conditions in the McKale facility to help maintain player performance between the two buildings.
The two-story gym sits one level below grade in an effort to reduce the building's impact on the campus, which is adjacent to Tucson's historic Sam Hughes neighborhood.
"The university wanted to be a good neighbor by providing something on the edge of campus with a friendly scale," says David Larson, senior vice president at TMP and design director for the project. "We opted for the scale of the one-story building in that location."
The exterior of the gym features frosted glass, which allows natural light while protecting the privacy of the basketball program, a priority for the university.
"Since it is a practice facility for basketball, the need for privacy is important," Larson says. "They wanted translucent glass that would let in light, not vision glass."
In accordance with university preferences, architects designed the gym with a palette of brick, stone and glass to help it relate to older buildings on campus.
"People on campus saw this project as an opportunity to go back to the university's roots," Larson says. "A lot of people rallied behind that expression, rather than having a look that would be very modern or abstract."
However, designers took a more modern tack with the gymnastics expansion. Due to the facility's location on the edge of the athletic promenade, architects gave it a fresh face with new metal panels and clear signage.
"The promenade takes you from the formal mall deeper into the athletic campus where the McKale Arena and football and baseball venues are located," Larson says. "It is the beginning of something that gives that area of campus more of an identity, rather than being just a sidewalk path."
In addition to the new façade, the gymnastics building was extended 30 feet to accommodate full training routines. Prior to the expansion, coaches and gymnasts were forced to improvise routines, as the building was not long enough.
To strengthen the university diving and water polo programs, a new 10-meter diving tower and 17-foot tank were added, reducing demand from swimming, diving and water polo participants on the university's single 50-meter pool and diving well.
The tower is designed to increase diver safety and serves as a staircase leading to 1-, 3-, 5-, 7.5- and 10-meter platform heights. In addition to diving and water polo training exercises, the new tank can accommodate water polo competitions. New trampoline- and trapeze-style training equipment and a spa for divers were also included with the addition.